Our Focus On Safety
Aurora Jet Partners operates within a custom-designed, state-of-the-art SMS (Safety Management System) that guides all of our operations and provides real-time feedback to both our front line staff and management teams. All of our departments are dedicated to operating with a zero-tolerance threshold for potential safety issues.
In recent years, Aurora Jet Partners has taken our outstanding safety record to the next level by being third-party audited and recognized by ARGUS and IS-BAO, the two leading aviation safety organizations.
IS-BAO Certification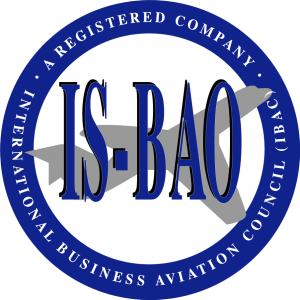 Aurora Jet Partners is an IS-BAO certified operator. Initiated in 2002, the International Standard for Business Aircraft Operations (IS-BAO) was designed to promote use of high-quality operating practices for international business aircraft operations. It provides baseline requirements for structuring flight departments and planning and conducting their operations. It challenges flight departments to review their current systems, programs, and procedures, recognize strengths and weaknesses in those procedures, and upgrade to a higher standard. The standard is based on International Civil Aviation Organization (ICAO) standards, which prepare the operator for both domestic and international operations.
ARGUS Gold Rating
Aurora Jet Partners has earned a Gold Rating from ARGUS. To achieve the Gold Rating, Argus conducts in-depth research into numerous databases and other reputable sources. Historical information on the commercial certificate, pilots, and aircraft serial numbers is compiled, processed, and scored to determine the applicability of a Gold Rating. An operator's composite score is compared with an aggregate group of operators with like exposures. If found to meet or exceed the median score of those operators, the operator will be granted an ARGUS Gold Rating.
ARGUS International, Inc. (ARGUS) is a specialized aviation services company with global expertise whose mission is to provide the aviation marketplace with the information needed to make informed decisions and manage risk. ARGUS services include the CHEQ proprietary charter operator rating and due diligence program, TRAQPak market intelligence data and research services, and aviation consulting. ARGUS subsidiaries include ARGUS PROS, the leading provider of on-site safety audits, and PRISM, the industry's most advanced Safety Management Systems (SMS) solutions provider and recognized certification consultant.
Founded in 1995, ARGUS is headquartered in Cincinnati, OH, and actively engaged with business activities in North America, Europe, Australia, Asia, South America, the Middle East, and Africa.