INSTANT QUOTE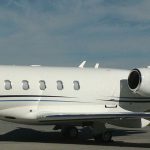 Challenger 300 C-FAJC
Back to Our Fleet
Super-Mid Size Jet / 9 Seats / Based in Vancouver / *Available for Charter
The Challenger 300 offers a stand up cabin with plenty of room for all guests.
It provides legendary Challenger comfort with the ability to climb straight to 45,000 ft. – up above bad weather and commercial traffic. The Challenger 300 is also a remarkably quiet jet and our clients often remark that this jet is "the perfect size".
The cabin features 6 large leather seats and a three-place divan. There is a fully equipped galley at the front of the cabin and a full-sized private lavatory at the rear.
Ideally suited for flights between 1 and 5 hours, the Challenger 300 is the perfect jet to get to Montreal, New York, Miami, Cabo San Lucas and other top destinations. A flight attendant will be on board to look after your every need so you can relax and enjoy your trip.
Passenger Capacity: 9
Cabin Dimensions (HWL): 6' x 7' x 28'7
Cabin Volume:  860 cu/ft
Baggage Volume: 106 cu/ft
Service Ceiling: 45,000 ft
Top Speed: 470 kts (870 km/hr)
Max Range: 3,100 nautical miles (5,741 km) – 8 passengers
Wi-Fi
Flight Attendant
Full private lavatory at rear of cabin
Seating for nine, with six separate seats and a three-seat divan
Cabin audio and video entertainment system
AirCell in-flight telephone system
Two 110v power points
Luxuriously appointed leather seating
Large internal baggage area
Airshow 4000
Galley appointed with coffee, tea, snacks, wine, beer, liquor, and soft drinks